iPad App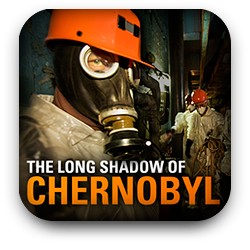 THE LONG SHADOW OF CHERNOBYL iPAD APP
An Interactive Multimedia Exploration of the Chernobyl Nuclear Disaster 25 Years Later
Photographer Gerd Ludwig, considered one of the leading documentary photographers of our time, introduces his premiere app for the iPad, the most comprehensive photographic coverage of the Chernobyl nuclear disaster to date. Spanning nearly two decades of documentation, the groundbreaking work explores the human and environmental impact since the disaster, including photos from Ludwig's most recent trip to Chernobyl, taken in early 2011 as the crisis at Japan's Fukushima nuclear power plant was unfolding and in 2013, as the tourism industry grew in the Exclusion Zone.
The iPad app features:
Four photo galleries, 12 slideshows and two interactive panoramas, for a total of more than 150 photographs (some never before published) of the reactor, the abandoned city of Pripyat, the Exclusion Zone and the victims
Exclusive behind-the-scenes video of damaged reactor unit No. 4, along with a video introduction by Ludwig, plus two additional videos
An in-depth look at the world's worst nuclear disaster to date: Ludwig went deeper inside the reactor than any Western still photographer and returned in 2011 on the eve of the 25th anniversary of the disaster to reenter the reactor
An essay by Dr. David Marples, renowned expert on Eastern Europe
The iPad App is available App Store for $6.99.
"The Long Shadow of Chernobyl" app is a joint production of Gerd Ludwig Photography and Lightbox Press, a new publisher of digital photography books and is created on the ScrollMotion software platform.
For press inquires, please contact us at: [email protected]