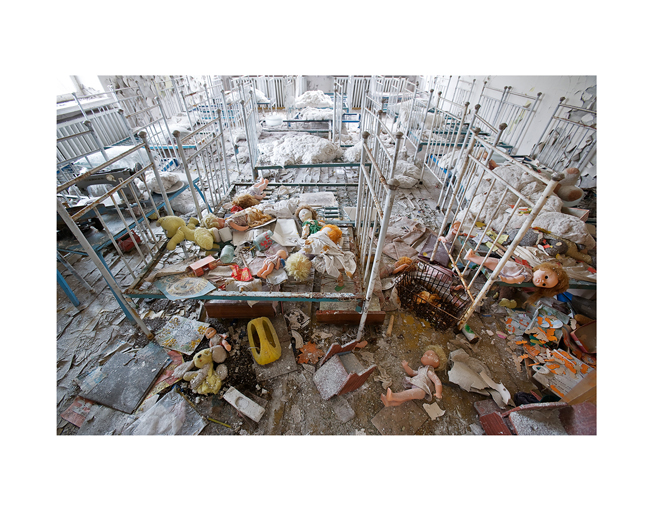 Starting November 27, signed prints of the image above are available (at $100 plus shipping) in Gerd Ludwig's Instagram flash sale for 10 days only. It is the second of two photographs in this spontaneous Holiday print sale.
"Silent Nursery". Dolls and shreds of mattresses litter the floor of an abandoned kindergarten in Pripyat inside the Chernobyl Exclusion Zone in Ukraine.
On April 26, 1986 the Chernobyl Nuclear Power Plant blew up after operators botched a safety test. While the radioactive fallout started to spread over tens of thousands of square kilometers, on the day of the disaster, children – oblivious to the nuclear catastrophe just 3km away – napped in their cods and played on the floors in this kindergarten of Pripyat, the reactor's company town. It took the authorities 36 hours to admit to the severity of the accident. Only then the children were hastily evacuated and had to leave everything behind – even their treasured dolls and toys.
The photograph was shot on assignment for National Geographic Magazine in 2005 and is a key image of my ongoing Chernobyl project. It was also published in my trilingual photo book "The Long Shadow of Chernobyl" (essay by Mikhail Gorbachev).
For this flash sale the photograph is printed on an archival 8.5×11 inch Legacy Platine paper with an actual image size of 6×9 inch. It is signed with an archival marker on the front border. Large limited edition prints of this image are in several private collections.
The flash sale ends on December 6th. All prints are shipped via USPS priority mail.
You can order a print by going to my Instagram @gerdludwig and follow the link in the bio or you can purchase one here.