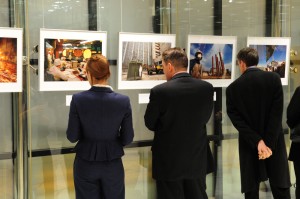 Last week an exhibition of my Chernobyl photographs went on display in London. Unfortunately, due to the timing, only a few of my newest images could be included.
To commemorate the 25th anniversary of the accident, the European Bank for Reconstruction and Development (EBRD) opened an exhibit at their London headquarters. The EBRD is in charge of collecting the finances for the Chernobyl cleanup and the construction of the New Safe Confinement, totaling $2.2 billion. At present, the Chernobyl Shelter Fund shows a gap of more than $800 million, the reason why the EBRD was eager to exhibit my photographs and confront an audience of ambassadors and bankers to the reality on the ground. Among the attendees was the Ukrainian Ambassador, Volodymyr Khandogiy.
The BBC aired a video about the exhibit just this morning: http://www.bbc.co.uk/news/world-europe-13125498
A list of the Kickstarter Donors and Sponsors was displayed alongside the photographs.